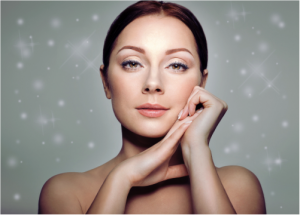 Put your best face forward this holiday season with a Liquid Facelift at AVIE! Medspa. As we age, we naturally lose volume and elasticity in our skin, which creates fine lines, wrinkles, and slightly hollowed areas of the face. With the holidays coming, it is the best time of year to look your best! A Leesburg Liquid Facelift is the perfect treatment to refresh your appearance for the holiday season.
A Liquid Facelift at AVIE! uses Botox® in combination with any of our dermal fillers including Juvéderm®, Restylane®, Perlane®, and Voluma®. Botox relaxes the muscles in the treated area to reduce the appearance of wrinkles and prevent future wrinkles from forming. Dermal fillers restore volume to the skin to smooth away fine lines and wrinkles such as smile lines, laugh lines, and nasolabial folds.
Pairing Botox with dermal fillers for a Liquid Facelift can result in a more youthful appearance! This treatment not only diminishes fine lines and wrinkles, it restores volume to the skin for a youthful yet natural "plump" and gives the face a temporary lift. The AVIE! team has performed over 100,000 Botox and dermal filler treatments since 2009. Master Aesthetician Kim Marinetto and the team have a combined 20 years of experience performing injectable treatments. What are you waiting for? Get ready for the holidays with a Liquid Facelift at AVIE!
Call 703.870.3844 or email info@https://aviemedspa.com for your consultation!