With Valentine's Day only a few weeks away, the time is right to celebrate the ones you love, including yourself! Why not be your own Valentine this year by treating yourself to lip enhancement? After all, plump, kissable lips are always in fashion!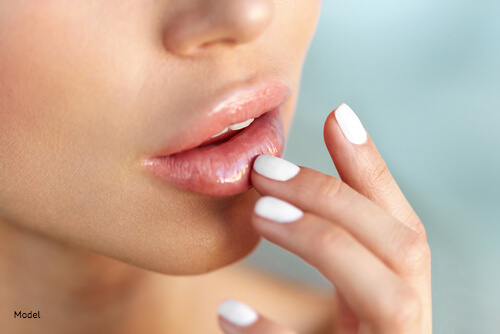 To help you achieve your best results, here are a few of your most frequently asked questions about lip fillers, along with expert treatment tips:
Why are lip fillers so popular?
We don't think about it much, but the natural aging process isn't just tough on your skin — it also dramatically impacts your lips. The natural border of your lips is technically termed the vermillion border. With age, as your skin produces less collagen and elastin, this border weakens and softens, resulting in smaller, less defined lips. Dermal fillers are carefully injected along the vermillion border to help restore this lost definition and volume, resulting in a younger-looking mouth. Aging can also create vertical lip lines, or smoker's lines, which can be smoothed away within seconds as the dermal filler literally fills in those recessed areas along the upper mouth. And last, but not least — full lips have been in vogue for decades now, and there's no indication of this stopping. Fuller, bolder lips are modern, and dermal fillers are an easy way to enhance your pout with minimal to no downtime.
How can I get a natural look?
Honestly, we get asked constantly about the dangers of looking like a duck after dermal filler injections! Fear not — your lips will be enhanced in proportion to your natural facial features. Have you heard about Phi, also known as the Golden Ratio? Phi is considered to be the ideal of beauty. Our goal with every lip injection is to maintain or restore Phi, your unique beauty ideal, by carefully assessing your features to maintain balance and
symmetry.
To reveal natural-looking enhancement, your dermal filler session will focus on restoring definition along the vermillion border while also enhancing your cupid's bow (the little dip in your upper lip). The cupid's bow is a delicate and desirable feature of the lips that can look amazing with just a little bit of filler! We'll also replenish volume to give your lips a fuller, less wrinkled appearance. How much filler you need depends on your lips and your goals, so we'll work closely with you to achieve your desired result!
Is swelling normal?
Yes! Swelling should be expected after your lip injections. Do not panic if you are still swollen a day or two after your injections. While our injectors are extremely precise and gentle when administering your treatment, your lips are still being subjected to several injections, which results in swelling. Rest assured, this swelling quickly subsides within a matter of hours to days. The most important thing to remember is to ice your treatment areas on and off and keep your hands to yourself to prevent any infections or undesired movement of your fillers.
Ready to achieve your most kissable lips yet this winter? Call 703.870.3844 or request your personal consultation online today.