We want to thank you from the bottom of our hearts for sticking with us through this difficult time! We know so many of you have been patiently waiting to get the treatments that help you look and feel your best. It's not easy when your routine gets disrupted, and we are with you every step of the way.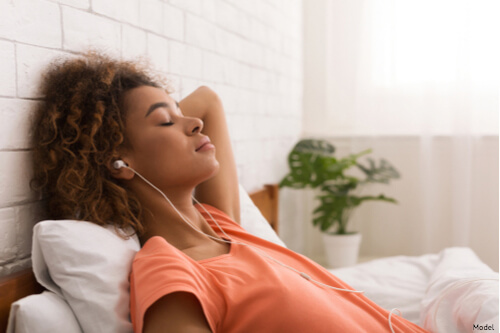 Speaking of routines, we thought it'd be fun to share a few ways our team here at AVIE! has been able to keep our stress down in recent months. For example, we've been trying to limit the amount of time we watch or read the news each day, because research indicates that being exposed to disturbing news can raise your body's stress response. It's important to stay informed, of course! We're just saying that you won't find the news blaring in the background over here. At AVIE!, listening to relaxing music while we work is more our speed. And speaking of music…
Here are a few wellness tips we love:
Playing your favorite tunes!
When our favorite song comes on the radio, we perk up a little, our mood elevates and we may even start to move our body in rhythm to the music. We all intuitively know that music can be uplifting and soothing, and there's research to back it up! According to Harvard Health, music therapy was shown to reduce symptoms of depression in four separate clinical trials. In another study of 60 chronic pain sufferers, music reduced pain, depression and disability. Music has also been clinically shown to help improve quality of sleep in patients with sleep disorders.
Dancing!
We're not suggesting that you go out and start hitting the dance club circuit right now, but what about dancing to your favorite tunes in the kitchen? It's silly, we know, but it may also be super good for you! An inspiring study in 2011 measured the effect of dancing on adults who were 65 or older and at risk of falling but otherwise healthy. Of the 134 adults, half were trained to walk and perform movements in time to music (in other words, dance), while the other half continued with their usual lifestyle. After six months, the "dancers" exhibited better gait and balance and experienced 54% fewer falls. In similar studies with Parkinson's patients, dancing was shown to help improve mobility.
We adore studies like this! Doesn't it inspire you to take a dance class and expand your horizons a bit? When social distancing guidelines have relaxed, what about learning how to salsa with your partner?
Treating yourself at least once a day
Treats can be anything, from a simple piece of chocolate to a visit to our medspa for SkinTyte™ II, CoolSculpting®, Botox®… Other ways to indulge yourself include taking cat naps, tea breaks, reading a good book, knitting, painting or buying a new skin care product. (Check out our medical-grade skin care here!) The most important
beginning and presents a new opportunity to be kind to yourself. Best of all, kindness is contagious! Being good to yourself helps you spread goodness to others, which means the positive possibilities are endless.
We are ready to help you look and feel amazing this summer. We hope you are ready, too! To learn more about our services, please call us at 703.870.3844 or request a personal consultation online today.
— Kim
Source used in blog:
Music and health