The positive response and press for CoolSculpting just keeps coming! A recent episode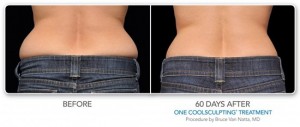 of CBS This Morning was no exception. CBS called CoolSculpting one of the rare examples of a fat reduction technology that does exactly what it claims when used on the right patient, calling it a "surgery free alternative to liposuction."
Kim Marinetto, owner and MA at AVIE! MedSpa, recently underwent advanced CoolSculpting training in California, learning even more about how different body types will respond to this fat reduction technology, and who will be the best candidate. Kim says, "CoolSculpting works best for individuals who are in good shape but cant seem to shed stubborn fat bulges. If you can pinch these areas of fat, CoolSculpting can be a very effective fat reduction technology."
Because AVIE! offers both CoolSculpting and minimally invasive ProLipo laser liposuction, you can be sure we have the right technology to tackle your cosmetic concerns.Kim Marinetto, owner and MA at AVIE! MedSpa, recently underwent advanced CoolSculpting training in California, learning even more about how different body types will respond to this fat reduction technology, and who will be the best candidate. Kim says, "CoolSculpting works best for individuals who are in good shape but cant seem to shed stubborn fat bulges. If you can pinch these areas of fat, CoolSculpting can be a very effective fat reduction technology."
Last year alone, 425,000 CoolSculpting treatments were performed around the world, and over 1 million have been performed since two Harvard scientists first invented the technology.
CoolSculpting in Leesburg, VA at AVIE! MedSpa and Laser Center is FDA-cleared for reducing fat on the abdomen, love handles and thighs without surgery or downtime. If you are unhappy with bumps and bulges of fat that resist diet and exercise, like saddle bags, belly bulge, muffin top or more, learn about CoolSculpting in Loudoun County can help slim and trim your shape without surgery or downtime.
To schedule your free consultation, call (703) 870-3844 or email info@https://aviemedspa.com.