Self-care is a mainstream subject — which we love! — but how many of us really know what counts as self-care and how to make it part of our daily lives? We're thinking that all of us could benefit from a self-care primer!
To help you get a jumpstart on self-care and feeling fabulous this season, we'd like to share a few tips we recently came across.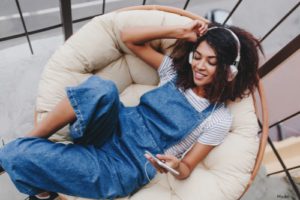 This spring, give yourself a wellness boost by:
Starting your day with water.
Most people don't jump excitedly out of bed in the morning like you may see in some cereal commercials. Aside from the overall quality and amount of sleep we've gotten, we also generally don't feel the best when we first wake up because we are slightly dehydrated. Drinking a glass of water first thing when you wake up can make a noticeable difference in helping you feel better and overall more awake and ready to start your day. Want to follow up immediately with a big cup of coffee? Be our guest, as long as the water comes first, since caffeine can be dehydrating.
Establishing healthy boundaries with technology.
Don't feel bad if you work most of the day on a laptop or switching between your computer and phone. Most of us do! We all have to do our jobs. That being said, social media, online shopping, even online bill paying can all keep us staring at our screens for most of the non-working hours of the day. If you struggle with anxiety or burnout, it can help to deliberately distance yourself from your screens for at least a few hours every day. Everyone's lifestyle and needs are unique, but we recommend activities that distract your mind from anxious thoughts in a pleasant way, such as:
● Reading
● Writing
● Puzzles
● Listening to music
● Cooking or baking
● Yoga or meditation
● Arts or crafts projects
● Dancing (one of AVIE! founder Kim Marinetto's favorite things to do!)
…or anything else like this that can give your mind a break to relax and recharge. If you have trouble falling asleep, it's recommended that you avoid technology for at least an hour before bed (or however long you can manage) to help prep your mind for a better night's sleep.
Getting comfortable with saying no.
This one isn't easy but can make a world of difference if you're feeling overburdened. It's hard to say "no," especially to people you care about, but when we say "yes" to everything that's asked of us, we are adding more to our own plate than we may be able to manage. This can result in feelings of resentment, stress or being overwhelmed. It's easy to say "yes" and feel like you're helping others, but if you're stretching yourself too thin or ignoring your own needs in order to do so, it's time to put your foot down and be clear with others when you need a helping hand. Saying "no" can even help you realize how often you typically say "yes" when you may not need to. We are here to remind you that your time and your wellness are as valuable as everyone else's!
Schedule time for yourself with the AVIE! team.
This spring get started on your path to self-care and wellness with some of the most popular self-care treatments at AVIE! Two or our favorites are FDA-approved Botox® and dermal fillers. These are tried-and-true solutions for smoothing and volumizing your look and turning back the hands of time with ease. AVIE! has actually performed over 315,000 Botox and dermal filler treatments since 2009.
This month, you can spring into self-care while SAVING with our April specials:
● Save up to $500 on EMSCULPT NEO® if you schedule a consultation this month. EMSCULPT NEO is the first and only non-invasive body shaping procedure that combines HIFEM and radiofrequency to increase muscle tone by 25% and reduce stubborn fat by 30%. Achieve simultaneous fat elimination and muscle building in a 30-minute session.
● Tone & Tighten EMTONE® Package: Save $2,000 on a package of 10 sessions.
● Lift & tighten while saving $1,000 on Ultherapy® full face and neck treatment, our non-surgical facelift.
Owner and master esthetician Kim Marinetto, RN, along with Medical Director Khalique Zahir, MD, and their highly skilled team of nurses, nurse practitioners and aestheticians, are committed to providing specialized cosmetic and aesthetic programs to address your needs on an individual basis with personalized follow-ups. Get started today by calling us at (703) 870-3844 or requesting a consultation online.