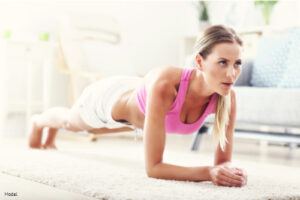 Everyone knows that having core strength is vital, but not as many of us understand exactly why or where to begin. Here are some inside tips for strengthening your core, plus a primer of the benefits.  
When it comes to strengthening your body, sometimes we need a boost in the right direction, and boy, do we have the perfect boost for you! Have you heard of EMSCULPT NEO®? It's the latest and all-time-greatest body sculpting technology on the market, and AVIE! is the first in Loudoun County to offer it.
EMSCULPT NEO is a non-invasive muscle strengthening device that is perfect for strengthening your core — without the workouts! This treatment also helps tone and strengthen your buttocks, inner/outer thighs and anterior/posterior thighs.
Here's how it works: EMSCULPT NEO uses high intense focused electromagnetic (HIFEM™) technology to stimulate thousands of muscle contractions in your target areas, helping you build up to 25% more muscle! But there's more! This state-of-the-art body contouring solution also reduces "pinch-an-inch" fat by 30% AND visceral fat by 17%. Before EMSCULPT NEO, visceral fat was only treatable with diet and exercise. What's more, mothers should be super excited because EMSCULPT NEO may even help you avoid tummy tuck surgery because it can help to repair rectus diastasis, a condition in which the abdominal muscles separate, which is common after pregnancy/childbirth.
Did you know that AVIE! is an academic training center for BTL Aesthetics, the maker of EMSCULPT® Classic, EMSCULPT NEO, EMTONE® and EMSELLA®? So, you know you are in the best hands!
So, why is having a strong core so important? We're glad you asked! Here are several awesome benefits:
Freedom of movement
The core is at the center of your body, as its name implies. When we think about where our core is, most of us think about the abdomen/belly first, but there are actually four areas of the body that comprise your core: namely, the abs, hips, back and chest. As the center of your body, your core stabilizes you while enabling your body to move freely. A strong core makes all types of movement possible, allowing you to move in any direction with ease.
Better balance
In addition to freedom of movement, your core gives your body balance and stability. When you're doing core exercises, you are literally training your muscles to coordinate in key areas like the abdomen, pelvis, lower back and hips. When all these muscles work well together, it helps you live life more comfortably by making daily activities like walking, sitting and exercising much easier to do.
Fewer injuries
When your body is in balance, it pretty much goes without saying that you're much less likely to lose your balance and experience an injury.
More productive workouts!
Your core is used in every movement you do during your exercise routine, so when your core is strong, you're better able to take your workouts to the next level, boosting your results during strength training, running, doing yoga or anything!
TLC for your muscles and joints
A strong core helps your body put less strain on your muscles and joints, which is a perfect segway to the next benefit…
Reduces/prevents back pain
We don't really think about it, but our core supports our entire body, especially our neck and back. When your core is weak, it forces your back and neck muscles to work harder to support your body, which can lead to muscle strain and back aches.
Improves posture & more!
A strong core helps your body stay in alignment, enabling you to sit upright. The benefits of good posture are pretty amazing! (Mom was right!) When you sit upright, you are better able to breathe deeply, which makes it easier for oxygen to travel through your muscles. Good posture also lessens wear and tear on your spine, preventing strain and back pain. Another plus: Good posture is also responsible for helping you survive standing or sitting for long periods of time.
Ultimately, use it or lose it is definitely the case with your core! What many of us don't realize is that we are engaging our core muscles constantly throughout the day, from walking to bending over to simply standing. This is why core strength is so vital! There are loads of articles on the best all-time exercises to do for strengthening your core, which includes the plank, of course! (check out this article in SELF for more!). Here's the thing, though: Not everyone loves planks or doing specific exercises, and it's nearly impossible to sustain an exercise routine if you're not enthused by it. If this sounds like you, fitness experts recommend to keep moving doing the things you love. Walking, gardening, yoga — all these activities can help to strengthen your core for the long run. It's also worth noting that EMSCULPT NEO is an easy way to strengthen your core without spending hours at the gym!
We hope you are as pumped up about strengthening your core as we are! To learn more about core strengthening and EMSCULPT NEO, call us at 703.737.0197 or request a consultation online today.