January weather may be dull and drab, but that doesn't mean your complexion has to follow suit. Are you as eager as we are to hit the refresh button? We thought you might be, so we created the following Refresh and Renew specials for revitalizing you in more ways than one this month. Please keep in mind that the products in our specials may vary depending on your skin type.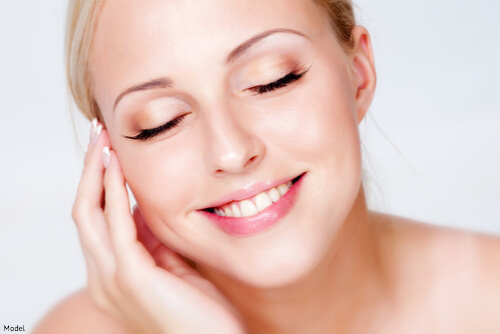 Get the Halo™ glow — and healthier skin!
This month, you'll save 20% with our Halo face & neck laser skin resurfacing package. Halo is an advanced hybrid laser treatment that uses two types of laser energy to resurface your skin and reveal dramatic improvements in tone and texture. We love Halo because it literally renews your complexion, reversing sun damage and the many signs of aging while also stimulating the growth of healthy new skin. With Halo, you're getting so much more than just a beauty treatment that reduces lines and wrinkles, age spots, acne scars, dullness and large pores.
20% off a package of three Platinum HydraFacial MD® treatments (save $219)
Did you know that our Platinum HydraFacial MD treatment starts with lymphatic therapy using a specially designed lymphatic handpiece to gently detoxify your skin? This results-driven skin treatment also includes deep cleansing, glycolic and salicylic peel/exfoliation, vortex suction/extraction, hydration with an infusion of hyaluronic acid, peptides and antioxidants and LED therapy to help you achieve smoother, brighter, clearer and younger-looking skin with zero downtime. Many people think that zero downtime means zero benefits, but we can tell you from experience that HydraFacial MD delivers on complexion improvements in a big way. Here's a list of just some of the specific complexion concerns you can improve with this award-winning skin resurfacing treatment:
• Hyperpigmentation
• Uneven skin tone and texture
• Enlarged pores
• Oily skin
• Fine lines and wrinkles
• Dullness
• Acne/clogged pores
A series of treatments is recommended for your best results, which is why we are offering 20% off a package of three HydraFacial MD treatments this month!
Put your best face forward this year and treat your skin to advanced revitalization at AVIE! To learn more about our skin treatments, please call 703.870.3844 or request a consultation today. See you soon!
— Kim