You know those people who look like they spend every hour in the gym? If that's your passion in life, more power to you. But for those of us who do not want to commit hours of our day to working out, it's a great time to consider the freedom of EMSCULPT®, the world's leading non-invasive muscle toning treatment.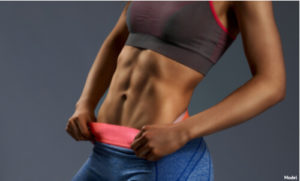 Freedom is the word that comes to mind with EMSCULPT because this technology saves you time and energy to live a full life! Body contouring and achieving total body fitness in general can be a frustrating pursuit. Our "problem spots" are called problems for a reason: They are slow to respond to diet and exercise. It's those problem spots that compel so many of us to toil away hours working out! It takes intense energy and effort to tame our trouble zones.
Now that EMSCULPT has entered the picture, our concept of fitness as we know it has been turned on its head. Now, regular people like you and me can achieve our body contouring goals and strengthen our core without spending grueling hours at the gym.
Besides your appearance, lack of muscle tone can also affect your total body health by causing chronic back pain and other problems. By strengthening your core abdominal muscles with EMSCULPT, you're not only improving your appearance, but also improving core strength, balance, posture and potentially relieving symptoms like back pain!
EMSCULPT is a simple treatment. All you have to do is lay back while we apply EMSCULPT's special applicator, which administers high-intensity focused electromagnetic (HIFEM) energy to your muscles. As you relax, EMSCULPT goes to work stimulating thousands of muscle contractions in your target area (EMSCULPT is FDA-approved to treat the abdomen, buttocks, arms and thighs). EMSCULPT is essentially working out your muscles without the workout. After your session, your muscles will feel tired and sore, just like you would feel after an intense workout. The best part about EMSCULPT is that it's the best workout of your life! When you think about it, EMSCULPT is inducing thousands of muscle contractions in one session. Compare that to your regular workout. Are you capable of making thousands of muscle contractions in your target areas in one gym visit?
When you factor in the pandemic, which has drastically curtailed our ability to work out, EMSCULPT is a much-needed alternative to the gym. With EMSCULPT, you can strengthen anytime you need to without fitting in a workout. If you've got 30 minutes, we can help!
All these reasons and more are why we are now offering an EMSCULPT membership plan here at AVIE! For your best results with EMSCULPT, we typically perform a series of at least four treatments, spaced three days apart. Because muscles need continuous strengthening to stay strong and defined, maintenance treatments are needed periodically with EMSCULPT. With a membership, you'll be able to come in for touch-up treatments when you need to without worrying about going over budget. EMSCULPT workouts will be built into your regular routine! To learn more about our membership plan, please call 703.870.3844 or request a consultation online today. We truly can't wait to help you to discover the freedom of EMSCULPTing for yourself!
— Kim