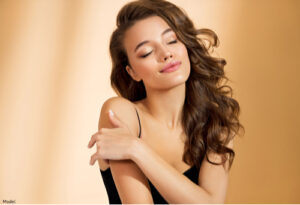 With the holidays approaching, you may be focused on the gifts you want to get for all your loved ones — but don't forget about yourself! The team at AVIE! is ready to help you give yourself the greatest gift of all: the gift of self-care! Here are a few of our favorite skin rejuvenation treatments to help you treat yourself to much-deserved pampering, all while helping you look and feel AMAZING in time for the holiday season.
BBL® photofacial
The cooler weather in the fall and winter makes now an ideal time to invest in your skin with BBL (BroadBand Light) photofacials. This is because BBL uses Broadband Light to treat your skin, which needs to be carefully protected from sun exposure after treatment to avoid unwanted side effects. It's much easier to protect your skin from the sun while the weather is colder! At AVIE!, we proudly offer traditional BBL photofacials as well as BBL HERO photofacials. HERO stands for High Energy Rapid Output. BBL HERO provides all the same amazing benefits as traditional BBL, but it has more power and bandwidth to efficiently treat larger areas of the body in mere minutes!
BBL photofacials are the gold standard for diminishing signs of cumulative sun damage, such as age spots, brown spots, broken capillaries and more. Plus, with long-term use, it also stimulates the growth of vibrant, healthy new collagen and elastin for an overall smoother, more evenly toned and younger looking you! Not to mention, BBL requires NO downtime, so treatments can easily fit into your daily schedule.
Chemical peels
Our extensive selection of chemical peels allows everyone to experience glowing, head-turning results, regardless of skin type! Chemical peels are a trusted exfoliating treatment that uses fruit acids to loosen the "glue," so to speak, that binds dead skin cells to the surface of your skin. This exfoliating process also triggers the production of new collagen, thus improving the appearance of fine lines and wrinkles, acne, rosacea, sun damage, acne scarring and more. Results can include a clearer, more youthful complexion that is smoother, brighter and more hydrated!
Medical-grade skin care
Whether you want to maintain the results of your professional skin treatments or just significantly improve your at-home skincare game, medical-grade skin care products are the way to go! That's why, at AVIE!, we provide a variety of professional skincare lines, including Alastin®, SkinMedica® and Revision Skincare®.
Packed with proven ingredients like antioxidants and peptides, these professional lines are formulated for peak efficacy and optimal results. Alastin even offers a product called TransFORM that helps to boost your body contouring results! These results-driven and clinically proven product lines can help you achieve and maintain healthier, younger-looking and more vibrant skin for years to come. Not sure which products are best for your skin type and goals? Don't worry! Our dedicated team of skincare experts is ready to work with you during your personal consultation to analyze your skin and develop the ideal product regimen for you.
Learn more about these glow-getting possibilities by giving us a call today at (703) 870-3844 or requesting a consultation online!