Many of us have spent the past year having a lot more video calls than usual. If this has caused you to be bothered by the look of a double chin or skin laxity on your neck, we're here to tell you how you can regain a slimmer, tighter, younger-looking neck at AVIE! Medspa without surgery or extensive downtime.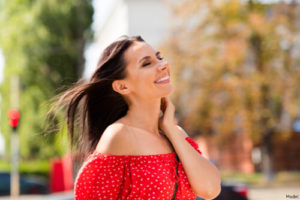 We offer a wide range of treatment options to ensure you'll find the best treatment and regimen to reach your personal aesthetic goals. Here's what you can expect with each option!
Lift and tighten with Ultherapy®
Ultherapy is the ideal solution if you're interested in the results of a facelift but not keen on getting surgery. Ultherapy is a non-surgical facelift alternative! This non-invasive treatment uses tried-and-true ultrasound energy to tighten your skin's deep foundational layers, resulting in a visible uplift and tightening effect for loose skin on the face, neck and décolleté, all with NO downtime. Ultherapy can treat a variety of areas, including:
● Neck
● Face
● Brow
● Jowls
● Chin
● Jawline
● Chest
This month, you can save $1,000 on your Ultherapy full face and neck treatment!
Slim your neckline with Kybella®
With minimally invasive Kybella, you can finally ditch your double chin! Kybella trims away excess fat under the chin without surgery, resulting in a sleeker facial profile and jawline. This FDA-approved treatment works by gently injecting deoxycholic acid, a naturally occurring substance that breaks down fat deposits in small areas, into the area below the chin. Long-lasting improvements are noticed gradually over the months following treatment.
Enhance your results with SkinMedica® Neck Correct Cream
As one of the first locations to use this revolutionary product, the AVIE! team is excited to now offer SkinMedica Neck Correct Cream — the first topical product to address neck muscles! This formula, designed for the neck and décolleté, is a powerfully effective serum for preventing and addressing the visible signs of neck aging. It is clinically proven to lift, firm and smooth the skin for a years-younger look. We recommend Neck Correct Cream for anyone interested in a younger-looking neck, and to further enhance and maintain your results if you choose to get a neck treatment here in Leesburg.
Say goodbye to year-round turtlenecks and scarves and prepare to flaunt a lifted, tightened, younger-looking neck this year by calling us today at (703) 870-3844 or requesting a consultation online.