As you know, we believe in the power of medical-grade skin care products here at AVIE! because we see their amazing benefits every day, both in ourselves and our clients' skin. For your best possible complexion, you simply can't beat the combination of professional skin rejuvenation treatments with medical-grade skin care products. This is why we are super excited to talk about one of our newest skin care products from SkinMedica® — TNS® Advanced+ Serum!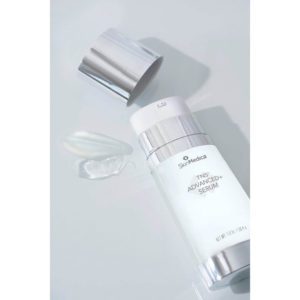 This next-generation formula is clinically proven to smooth coarse wrinkles and fine lines — and even address sagging skin! That's right, TNS Advanced+ is the only growth factor product on the market that's proven to address sagging skin! Study subjects saw significant improvements in the appearance of sagging skin after only eight weeks. Isn't that amazing? It's also colorless and odorless!
Other clinical results you'll want to know about:
● A third party-validated psychometric scale revealed that patients felt they looked up to six years younger after 12 weeks of product use.
● Patients saw visible results in just two weeks.
● Subjects felt increasingly more satisfied with continued use over 24 weeks.
Appropriate for all skin types, TNS Advanced+ is colorless, fragrance-free and has a lightweight, matte finish, which is great for those of us who have oily skin! This month, we're having a product special: when you purchase SkinMedica TNS Advanced+ Serum, Lytera® 2.0, HA5 or Lumivive® (which are all amazing SkinMedica products) and one additional SkinMedica product, you'll receive 20% OFF your purchase, PLUS a $40 rebate and SkinMedica travel bag, while supplies last.
To learn more about SkinMedica and our other results-driven, research-based medical-grade skin care products — and the treatments to pair with them — please call us at 703.870.3844 or request a consultation online today!
— Kim