Skin care is on our minds this month, now that we're approaching spring and renewal is the name of the game. A few weeks ago, we posted a blog about a few of our favorite Alastin® products, which we swear by. But since we offer so many amazing skin care lines, we wanted to share a few more products we love! These products are tried and true, used religiously by many of our staff, including Kim!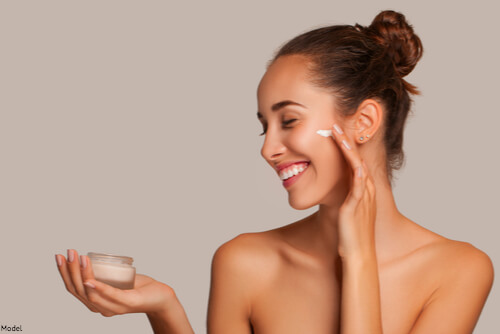 If you have any questions, we are here to help. Just call us any time at 703.870.3844 or request a consultation today.
Here's a list of our favorites and how they can help your skin look refreshed and radiant this spring!
SkinMedica's TNS® Advanced+ Serum
This is the only growth factor product clinically proven to address sagging skin! Isn't that amazing? This next-generation skin rejuvenating formula improves the appearance of coarse wrinkles, fine lines, skin tone and texture. You can see visible results in just two weeks, but your results will continue to improve through 24 weeks of use.
SkinMedica's LUMIVIVE® Day Damage Defense Serum & LUMIVIVE® Night Revitalize Repair Complex
Ready for radiant skin in a few short weeks? This two-step system gives your skin more power to resist environmental stressors during the day and recover itself overnight. This Defense Serum offers full atmospheric protection against blue light and pollution, too!
SkinMedica's HA5® Rejuvenating Hydrator
This mega hydrating formula is packed with five forms of hyaluronic acid to immediately smooth skin and minimize the look of fine lines and wrinkles. The five HAs work synergistically to provide continuous hydration throughout the day, resulting in radiant, rejuvenated tone and texture.
Alastin® Restorative Skin Complex with TriHex Technology®
The flagship product of Alastin's Restore and Renew line, Restorative Complex is packed with antioxidants to help volumize and lift aging skin, improving the appearance of fine lines and wrinkles, restoring lost volume to thinning skin, improving elasticity and evening tone. The science behind Alastin is pretty cool: TriHex technology works with the skin to clear out damaged elastin and collagen and support the production of new, healthy elastin and collagen. What's not to love about that?
Alastin HydraTint Pro Mineral Broad Spectrum Sunscreen SPF 36
This may be the holy grail of sunscreen because it functions as a skin primer and perfector while also protecting your skin from UVA/UVB rays and environmental pollution. We love the fact that HydraTint is a mineral formula that's chemical free and safe for all skin types — and the environment (no danger to reefs!). Best of all, it's lightweight oil-free formulation has a universal tint that gives you a healthy looking glow. You may even want to wear it instead of makeup!
We love medical-grade skin care so much because it delivers the results we need and helps us maintain our glow for the long term. We hope to help you find the same amazing results from your favorite skin care products! We are here to help you pick the perfect ones for your needs. To learn more or get started, please call 703.870.3844 or request a consultation today. See you soon!