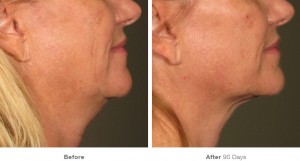 Does your face need a little lift? Look no further than AVIE! in Leesburg, Virginia where Ultherapy® is offered! This non-surgical facelift alternative that uses revolutionary ultrasound technology is available in Leesburg, VA.  We are proud to say that AVIE! is the first in Loudoun County to offer this amazing treatment, and we were recently featured in New Beauty Magazine as one of the Top Five Ultherapy providers of the Southeast.
The purpose of Ultherapy is to tighten deep foundations of the skin that have loosened and sagged over the years. Great for the face, neck, under the chin, along the jaw line and on the brow, Ultherapy transforms your face in less than two hours. Results are long-lasting, and can remove years from your appearance without the risks and recovery time that come with surgery.  Some improvement immediately, while optimal results appear gradually over time, for a more natural transformation.
Ultherapy poses no need for downtime so you can return to your everyday lifestyle after treatment. You can be well on your way to younger-looking, firmer skin with the help of Ultherapy in Leesburg, VA. These amazing effects can even last well over two years after the start of treatments!
Are you ready to be uplifted with Ultherapy at AVIE!? Call 703.870.3844 or email info@https://aviemedspa.com for your consultation!