The selfie trend is the latest social media craze and it seems everyone, even the President,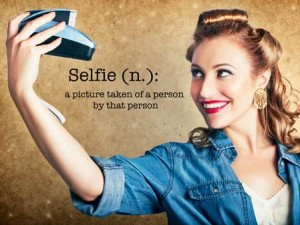 is posting them to Facebook, Twitter and Instagram. But the selfie trend has had one unexpected side effect – seeing ourselves more, especially from unflattering angles.
The latest statistics from the American Academy of Facial Plastic and Reconstructive Surgery suggest that one in three facial plastic surgeons have noted an uptick in the number of patients requesting procedures because they are "more self-aware of looks in social media" – or, more specifically, selfies.
Here at AVIE! MedSpa, however, we're happy to report that if you're bothered by loose, sagging skin on the face and neck, which selfies only seem to highlight, there's Ultherapy, the non-surgical way to lift, tone and tighten skin.
AVIE! MedSpa is the premier provider of Ultherapy in Leesburg, VA, having been the first medical spa to offer it in Loudoun County. Known as the "non-surgical facelift and necklift alternative", Ultherapy utilizes tried and true ultrasound technology to stimulate your skin's own collagen and elastin production, restoring the main components of a youthful complexion.
An Ultherapy treatment heats the deep, structural support layers of the skin, resulting in a tightening of tissue. Ultherapy is safe, effective and FDA-approved for skin tightening on the brow, neck and chin area. Say goodbye to turkey neck with no incisions, anesthesia, surgery or downtime!
Schedule your free consultation today by calling (703) 870-3844 or emailing info@https://aviemedspa.com.