At AVIE!, we know that all bodies are beautiful and it is our mission to help our clients realize this as well! It's easy to promote body positivity to others, especially our loved ones, but we know that it's often harder to feel the same way about our own bodies. After all, we are all our own harshest critics, and it can be hard to look past our perceived "faults." That is all the more reason why it's so important to achieve body positivity for ourselves!
You may be thinking that's easier said than done, but the team here at female-owned and operated AVIE! Medspa & Laser Center is ready to work closely with you to achieve your body goals this summer while supporting body positivity, so you can fully appreciate your strength and unique beauty.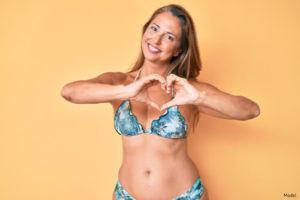 Total body confidence is possible at AVIE!, especially this month while you can save on some of our most popular body contouring solutions! We're offering a FREE CoolSculpting® non-invasive fat reduction treatment when you buy three cycles, plus you can save up to $500 when you book an EMSCULPT NEO® non-invasive body sculpting consultation this month.
Innovative aesthetic solutions aside, you can still achieve total body confidence this summer right from your home. It's all about making small, daily habits that work to reinforce love and acceptance of your own body, while removing the habitual negativity. Here are a few of our favorite tips for daily body positivity practices:
1. Surround yourself with positivity
We are often surrounded by negative messages about body image, from photoshopped billboards to unrealistic ads on social media, and more. This is why it's important to make the effort, as best as you can, to remove yourself from places where you most often encounter these negative messages — like on social media. You can instead choose to surround yourself with positive, supportive people and messages either by leaving social media or choosing to only follow pages or people who encourage positive and inclusive body messages. Stick with people who support self-love and can help you get to and stay in that positive space.
2. Focus on the things you like about yourself
This takes more frequent mental effort than you may realize, but that's why it can make such a difference! Start to pay attention to every time you think negatively about your body or your appearance, and every time that happens, immediately think of something you like about yourself. It's easy to fall into the habit of only seeing what we don't like about ourselves, but with daily repetition, you can create a habit of seeing the positives in yourself instead!
3. Think healthier, not skinnier
We are here to remind you that weight is not a sole indicator of health! That's why we want to encourage you to not focus on the number you see on the scale, but instead focus on making healthy choices every day when it comes to nutritious, well-balanced meals and a safe, healthy level of exercise that works for your lifestyle and your body. Making effective, healthy changes is about showing respect, kindness and appreciation for our bodies and all they are capable of, instead of thinking of punishing our bodies with restrictive diets or excessive workouts.
4. Do something nice for your body
We want to emphasize the value in deliberately doing something nice for your body, and making that part of your daily routine! It can make all the difference if you take even just a little time each day to stop and think, what would feel nice to your body today? Whether that's lying outside on the grass for a bit, going for a short walk to somewhere with a nice view or even just taking a nap, all of these can help you connect positively with your body and build a healthier, happier relationship with yourself.
If you're ready to invest in self-care with a supportive group of women by your side, it's time to reach out to the AVIE! team at (703) 870-3844 or request a personal consultation online.