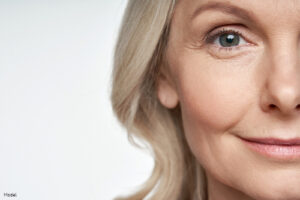 If you are experiencing vision impairment or looking "tired" or "sleepy" all the time due to drooping upper eyelids, you may be one of the millions of people who have acquired ptosis (low-lying lids). This is a common medical condition that can often develop later in life when the muscles in the eyelid stretch and weaken, causing the upper eyelid to droop.
Fortunately, AVIE! Medspa and Laser Center has attained the latest and greatest solution for acquired ptosis with Upneeq®. As the only FDA-approved prescription eyedrop for low-lying lids, Upneeq can safely and effectively lift your eyelids to open your eyes without surgery, helping to improve your appearance and your eyesight!
We figured you may have some questions, so in addition to scheduling a consultation with the AVIE! Team, we've answered some top FAQs regarding treatment for low-lying lids:
Other than age, what else causes low-lying lids?
Low-lying lids may also be caused by cataract surgery, contact lens wear or an underlying medical condition. It can also be related to more serious conditions such as stroke and/or brain aneurysm, Horner syndrome, myasthenia gravis, eye infection and eye tumors. Millions of adults who have low-lying lids may not even be aware of it, so it's important to be evaluated by a doctor if you have any of these conditions as it can lead to vision impairment.
How can prescription eyedrops help treat acquired ptosis?
FDA-approved Upneeq is an ophthalmic solution containing oxymetazoline hydrochloride, an alpha-adrenergic agonist that stimulates the Muller's muscle, an involuntary eyelid muscle, to contract and raise the upper eyelid.
When will I see my results?
What's so exciting about this once-daily prescription eyedrop is its fast-acting results! In clinical studies, Upneeq was shown to rapidly lift the upper eyelid and open eyes in as little as two hours after the first dose. Patients in one study even saw a lift in their lids after only five minutes! To maintain your results, Upneeq prescription eyedrops need to be used consistently for the long term.
Am I a good candidate for Upneeq?
During your personal consultation, we will carefully consider your health history, the condition of your eyelids and other factors to determine if Upneeq is suitable for your needs. You may be a candidate for Upneeq if your droopy, heavy lids are causing the following concerns:
Your eyesight is impaired
You look tired all the time
Your eyes appear asymmetrical
You have trouble reading, driving or using your computer
You are bothered by your appearance
How can I get started with the AVIE! team?
We can't wait for you to experience the benefits of this breakthrough solution! To learn more about improving droopy upper eyelids, call 703.737.0197 or request a consultation online today.