It's easy to think of skin aging as something that simply happens to you over time, but at AVIE! Medspa & Laser Center, it's our passion and privilege to help you take control over your skin's aging process! If you're ready to pause skin aging and enjoy the appearance of a facelift WITHOUT surgery, it's time for you to schedule a consultation with us.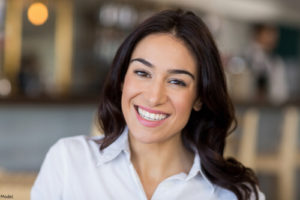 We're talking about Ultherapy® non-invasive skin tightening — the non-surgical facelift alternative!
You deserve only the best, which is why you'll find Ultherapy here in Leesburg. Our female-owned and operated practice has actually been recognized by New Beauty Magazine as one of the top Ultherapy providers in the Southeast region. AVIE! has also been recognized as an Ultherapy Ultra Treatment provider.
This month, you can experience Ultherapy while we're offering a FREE Ultherapy neck treatment when you receive a full-face treatment!
What's so great about Ultherapy?
Let us tell you, so you can get in on the age-defying rejuvenation you deserve!
What Ultherapy is: Ultherapy is the only non-invasive procedure that is FDA-cleared to lift skin and tighten muscle on the face, neck and chest with ultrasound energy.
How Ultherapy works: Ultherapy uses ultrasound energy to tighten the deep foundational layers of the muscle and skin. This provides a noticeable uplifting and tightening effect for lax, wrinkled skin on the face, neck or décolleté without invasive measures or downtime. If a surgical facelift is not right for you, Ultherapy can revitalize your look without the risk or downtime associated with a surgical procedure. This non-surgical facelift has zero downtime and reveals tighter skin in three to six months!
The benefits you can expect: Ultherapy reveals overall anti-aging benefits for the treated areas(s). It effectively lifts and tones your skin from deep within to help you achieve smoother, tighter, younger-looking skin. Ultherapy can be used to treat:
● Face
● Brow
● Jowls
● Neck
● Chin
● Jawline
● Chest
Ultherapy is a great option to use as a single, standalone treatment but can also be combined with laser rejuvenation or injectables, allowing you to customize and further enhance your results!
How to get started with Ultherapy at AVIE! This is the easiest part. All it takes is giving us a call today at (703) 870-3844 or requesting a consultation online. Our highly trained staff will work closely with you to help you determine the best treatment regimen for your needs and goals.