Achieve a look you can be confident in! At AVIE! MedSpa, we offer facial contouring treatments to provide you with a smooth, vibrant, and yes—even thinner—appearance. We love this treatment and we think you will too!
Facial contouring in Leesburg utilizes an advanced injectable technique that targets specific areas of the face in order to enhance the shape and encourage a more youthful look. The treatment is non-surgical and results in a thinner, slimmer facial contour with little to no downtime.
You'll see immediate results after only one session, with maximum results appearing after a few weeks. Registered Nurse and Master Aesthetician Kim Marinetto, and the AVIE! team are experts in injectable treatments under the direction of Dr. Zahir. Kim was recently voted "Best Aesthetician" by Posh Seven in their 2016 Best of Suburbia awards and is excited to share her knowledge with you!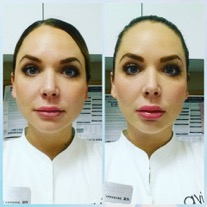 Be amazed when you look in the mirror! Call 703.870.3844 today to schedule your consultation at AVIE! MedSpa and Laser Center.