Sure, we all love cold-weather treats like hot chocolate and snowmen, but the winter can also bring stress for those of us who are affected by the lack of sunlight, not to mention the flu season and COVID-19. So far, 2020 has been a challenging year, to say the least, and as we approach the colder months, feelings of stress and depression can intensify for many of us. If you're one of these people, we are here to tell you that you're not alone! So many of us get down during the colder weather! But we also want you to know that we are committed to helping you feel great this season and all winter long. Wellness tools like practicing a little self-care at AVIE! can go a long way toward boosting your mood (so don't forget to book your next Botox® or BBL™!).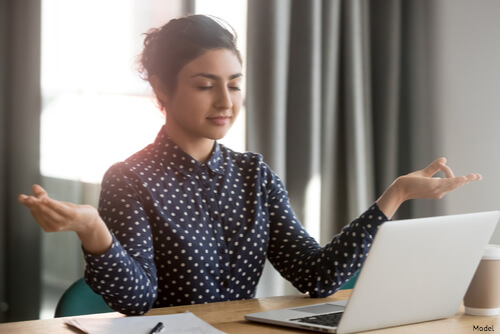 In the spirit of self-care, we wanted to share a story we recently came across on mindfulness, and how it may help us all to lower our stress levels. Research indicates that practicing mindfulness can help people with cancer to better cope with stress, anxiety, depression, fatigue and sleep problems — and it may even lower blood pressure and inflammation!
What exactly is mindfulness?
Mindfulness is simple! All it means is focusing your attention on the present moment. Well, there's a bit more to it. It also involves adjusting your perspective in life to feelings of openness and acceptance. If you stop for a moment, you'll soon realize how hard it actually is to be mindful! Most of us do everything except focus on the present: We daydream about the past and worry about the future…the present moment isn't really thought about much at all.
How can you be more mindful?
The key is to become aware of your thoughts, feelings and sensations and try to observe them in a nonjudgmental way. It's OK to have thoughts — the goal isn't to be "blank" — but to simply observe yourself in the moment. As you sit quietly, observing your thoughts and accepting where you are, you are practicing mindfulness meditation. There's really not much else to it.
Did you know that mindfulness meditation is the most widely studied and used type of meditation within medical settings? Isn't that neat? If you'd like to learn more about mindfulness, here are a few sources to check out:
● Mindfulness Center at Brown University
● UC San Diego Center for Mindfulness
● American Institute for Cancer Research
Mindfulness meditation is a great way to practice self-care, so don't forget to make time for yourself to simply be in the moment. And when you are ready to take time for yourself by treating yourself to your favorite skin and body treatments at AVIE!, please call us at 703.870.3844 or request a consultation online today!
— Kim