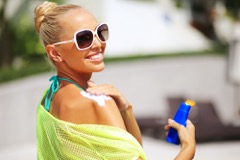 Healthy skin is happy skin! Every summer we want you to take special care of your skin. We know it's easy to forget to put on sunblock, but we promise, it's well worth it!
Excess sun exposure doesn't just cause the skin to burn or tan, it can also create sun damage and leave your skin with early signs of aging. Sun damage commonly causes wrinkles, fine lines, brown spots, and more. It is essential to protect the health, youthfulness, and glow of your skin with a quality, professional-grade sunscreen.
At AVIE!, we carry Elta MD® broad-spectrum sunscreen, made with antioxidants and natural zinc oxide. Elta MD in Leesburg is perfect for all skin types because it is paraben-free, fragrance-free, noncomedogenic, and offers both UVA and UVB protection. This water-resistant line of sunscreens is ideal for daily use as well as when you're active on the beach.
We also carry SkinMedica® Total Defense + Repair, a groundbreaking "superscreen" that protects the skin from UV rays, aids in sun damage repair, and contains anti-aging properties all in one! This superscreen is designed with UVA, UVB, UVC, and infrared protection as well as a combination of nourishing antioxidants. You can purchase SkinMedica's superscreen in SPF 50 plus, non-tinted SPF 34, or tinted SPF 34.
Take an extra step this summer and protect your skin even further with stylish hats and sunglasses. We love wearing our sunhats out because they cover our face and the back of our neck, plus they make the perfect summer accessory!
Care for your skin this summer and purchase your professional-grade sunscreens in our office today. Call 703.870.3844 for more information.