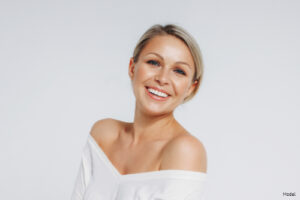 What does self-care look like for you in 2022? For some of us, it means smoothing out wrinkles and refreshing our look, for others it's losing a belly pooch. For many of us, it's all those things and more. At AVIE!, we are passionate about helping you look and feel your best in every way. We want 2022 to be your year to shine!
We put together some self-care ideas that we hope will inspire you to treat yourself this year!
1. Work smarter, not harder.
Almost everyone hopes to improve their appearance in the new year, but when it comes time to visit the gym or eat better, we can easily lose our motivation. We are here to tell you that you are not alone if you lose steam sometimes, but you're also not alone because we can help you! At AVIE!, we have state-of-the-art body contouring and skin tightening treatments (EMSCULPT NEO®, CoolSculpting®, EMTONE®, Ultherapy®) that are designed to provide benefits while you lay back and relax. We're not suggesting that you give up on your exercise because that's healthy in so many ways, but if you are fighting stubborn fat pads that are resistant to diet and exercise, AVIE! offers technology that will help! When you invest in technologies like EMSCULPT and CoolSculpting, it takes the pressure off YOU so you can keep walking your dog or going to the gym, but you can enjoy it more knowing that you're getting extra help where you need it. You no longer have to overwork yourself doing crunches because you know that EMSCULPT NEO is there to help you achieve your goals!
When it comes to skin tightening, you may love the benefits you can achieve with Botox® and dermal fillers, but did you know that you may be able to take your appearance to the next level by adding Ultherapy skin tightening to the mix? Ultherapy uses non-invasive ultrasound energy to tighten the foundational layers of your skin so you can achieve gradual, subtle tightening and lifting effects without surgery or downtime. Paired with injectables, you may be able to achieve the lift you've been looking for without adding more volume. Keep in mind that these are just examples! Every person is different. We will help you discover the ideal treatments for you during your personal consultation.
2. Never skimp on your beauty sleep.
There's a reason they call it "beauty sleep!" Sleep is a secret beauty weapon that most of us don't even think about, but when your body is asleep, your skin enters a magical repair mode, repairing damaged cells and clearing out debris while creating new collagen and elastin. Sleep also happens to be free, so be sure to take advantage of this beauty weapon! Of course, you can speed up your skin's repair and renewal process with advanced skin rejuvenation treatments and medical-grade products like Alastin® Regenerating Skin Nectar with TriHex™ technology! (We have so many amazing products to boost your results, and this is where we shine!) We can help you design a complete skin care regimen to smooth wrinkles, brighten dullness, shrink pore size and so much more — and maintain your results for the long term!
3. Play more!
This may sound a little strange, but do you ever play? While our kids are naturals at it, play doesn't come as easily to adults. But it turns out that play is as important for adults as it is for kids. In fact, wellness researchers recommend making plenty of time for play as an adult. Play is taking time to do something you love, without any reason or agenda, just for the sake of enjoying yourself. At AVIE!, we consider our line of work "play" because we enjoy it so much! Interacting with you, our awesome clients, is so rewarding! We also consider undergoing our treatments as a form of play. When you take the time to treat yourself to an experience that's just for you, it's pretty exciting and fun! So really any of our aesthetic treatments can be considered play!
At AVIE! Medspa and Laser Center, we are your partners in living life to its fullest! Treat yourself to head-turning radiance and body confidence this year — and PLAY! You can start by giving us a call at 703.737.0197 or requesting a consultation online today.