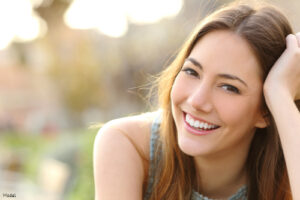 From cutting-edge technologies to award-winning care, AVIE! Medspa and Laser Center is your trusted source for the latest and greatest aesthetic treatments for improving your quality of life. So, what's hot for 2022? We'd love to share with you!
Halo™ laser skin rejuvenation
If you're looking to hit the refresh button on your complexion, it's a terrific time to consider Halo! Does the "Halo glow" ring any bells? Halo is the world's first hybrid fractional laser and is one of our most popular skin rejuvenation treatments for good reason! This award-winning technology is designed to renew your skin from deep within for long-term complexion benefits, including improved pore size, sun damage, fine lines and wrinkles, rough texture, uneven tone and more. Using temperature-controlled dual laser technology, Halo simultaneously treats both the outer layers of skin and the dermis, literally rejuvenating the skin from the inside out! Since Halo only targets a fraction of the skin, a perfect balance of treated and untreated skin is left to promote a rapid healing time and shorter downtime than similar laser treatments. Depending on the intensity of your treatment, you can start noticing results within the first week of your treatment. Optimal results will begin to appear two to three weeks later, as your skin continues to naturally heal and generate vibrant new collagen and elastin.
MOXI™ fractionated laser
MOXI is one of our newest skin treatments. We're super excited to offer this state-of-the-art technology by Sciton®, the manufacturer behind our other awesome laser skin treatments (Halo, SkinTyte™ and BBL® HERO™). MOXI is designed for staving off the visible signs of aging before they appear, which makes it a wonderful "prejuvenation" tool. But it's also extremely effective for reversing current sun damage and signs of aging. Whether you're looking for a light complexion refresh or intense skin renewal, MOXI features three intensities to deliver tailored improvements to the tone and texture of your skin, including improvements to uneven pigmentation, light sun damage and skin aging. Plus, MOXI is safe for use on every skin type all year-round and is effective on all body areas: face, neck, chest, arms and hands.
Ultherapy®: the non-surgical uplift
Did you know that AVIE! has been recognized as an Ultherapy Ultra Treatment provider? What's more, New Beauty Magazine recognized AVIE! as one of the top Ultherapy providers in the Southeast region. AVIE! has been performing Ultherapy treatments since 2012, and clients love their results. So, if you're considering FDA-cleared Ultherapy, you're in the right place!
Ultherapy uses ultrasound energy to target the deep, foundational layers of muscle and skin. By stimulating those deep layers, your skin is prompted to heal itself, which results in improved contours and definition. Optimal lifting and toning results will appear three to six months after your Ultherapy session. As new, more elastic collagen is generated, continued improvements can appear up to 12 months following treatment. It's important to note that Ultherapy is not a replacement for surgery, but it's a wonderful tool for pausing the aging button, so to speak, and giving yourself a natural-looking lift without any downtime. Plus, only one treatment is needed to see results! And to maintain your results, we typically recommend undergoing treatment every two to three years.
EMSCULPT NEO® non-invasive body contouring
Are you feeling discouraged because you have yet to make progress toward your New Year's resolution to get a better body in 2022? It may be time to consider getting a little help from the experts (that's us!). FDA-cleared EMSCULPT NEO is the first and only non-invasive body sculpting procedure to combine simultaneous fat reduction and muscle building in a combined 30-minute session. AVIE! is so proud to be the first in Loudoun County to provide this groundbreaking, no-downtime body contouring treatment. EMSCULPT NEO simultaneously emits radiofrequency and HIFEM+ energies to help sculpt, trim and tone your abs, buttocks, arms, calves or thighs. And the results speak for themselves: EMSCULPT NEO can help you build up to 25% more muscle and reduce fat by 30%! What's even more, EMSCULPT NEO can also repair rectus diastasis and reduce visceral fat by 19%! Amazing, right?
CoolSculpting® non-invasive fat reduction
If fat bulges are bringing you down, you may love the idea of freezing your fat away (literally!) with FDA-cleared CoolSculpting, the world's first non-invasive fat reduction treatment. AVIE! has been delivering CoolSculpting treatments since 2013. CoolSculpting is ideal for reducing stubborn areas of pinchable fat resistant to diet and exercise, areas such as the upper arms, buttocks, abdomen, inner and outer thighs, flanks and banana rolls with little to no downtime. Here's how the magic happens: CoolSculpting uses advanced cooling technology to freeze and disable targeted fat cells, allowing your body to flush them away in the weeks and months following treatment. Thanks to advanced technology available at AVIE!, CoolSculpting treatments are now twice as fast, as quick as 35 minutes! Plus, we can tailor your treatment to meet your body's exact needs and goals for optimal, long-lasting results.
The AVIE! team is dedicated to helping you live your most confident, joyful life! To learn more about our aesthetic services, please call 703.737.0197 or request a consultation online today.