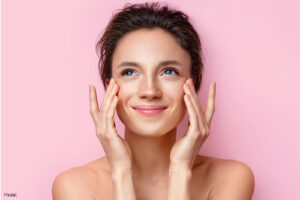 We love administering liquid facelifts at AVIE!, but we certainly do get our fair share of questions about it! Are you intrigued by this state-of-the-art aesthetic treatment? Are you wondering if it's right for you?
Here's a look at some of our most frequently asked questions about liquid facelift to help you stay in the know about this popular aesthetic solution:
What exactly is a liquid facelift?
A liquid facelift typically refers to a combination treatment including dermal fillers and neuromodulators like Botox® to help smooth wrinkles and restore lost volume, revealing a years-younger appearance without surgery. At AVIE!, our signature liquid facelift features proven injectables but also goes the extra mile by including advanced skin care formulas that boost your age-defying results.
AVIE!'s liquid facelift includes:
50 units Botox
2 mL Voluma® XC
SkinMedica® TNS Advanced+ Serum
SkinMedica HA5 Rejuvenating Hydrator
Can you really get facelift results without surgery?
Yes! We are proud to report that our clients who choose liquid facelift are extremely happy with their results! What makes the liquid facelift treatment so great for so many is that it's minimally invasive and provides almost immediate results. While Botox can take four to seven days to show full results, Voluma XC is formulated with robust molecules of hyaluronic acid (HA) to plump up volume in the cheek area and smooth skin immediately. What's so vital about restoring lost volume to cheek area is that this action creates a cascade effect of anti-aging benefits. Specifically, as the cheek volume goes up, the skin is delicately lifted, improving the appearance of nasolabial folds around the mouth and even jowls. What's more, Voluma is also FDA-approved to help define and augment the jawline area, which can also rejuvenate your chin and neck areas.
Keep in mind that optimal results should appear within a week or two, depending on your specific response to treatment. Typical side effects with all injectables include swelling and may also incur slight bruising and pinpoint bleeding, but these side effects resolve quickly on their own.
What results can I expect with a liquid facelift?
A liquid facelift is tailored to your unique needs and goals. But generally speaking, you can expect to enjoy a lifted and youthful appearance to your facial contours and diminished lines and wrinkles. You will also be able to enhance your results by applying SkinMedica TNS Advanced+ Serum and SkinMedica HA5 Rejuvenating Hydrator every morning and evening. These two medical-grade skin care products are formulated to help restore moisture while smoothing the appearance of crepey skin and course lines and wrinkles within weeks! So be sure to buckle up for your WOW results!
Is a liquid facelift a replacement for surgery?
A liquid facelift is a wonderful option for people who are hoping to restore volume and look their best without the hassles or risks of surgery. That said, not everyone is a candidate for this efficient treatment. If your skin is severely sagging or lax, for example, you may need surgery to help pull skin taut and remove excess skin as needed. A liquid facelift is wonderful for replenishing volume and smoothing lines, but if your skin is too lax, the added volume of fillers won't be enough to create a flattering look. Keep in mind that AVIE! offers a wide range of other aesthetic tools, from skin tightening with VirtueRF microneedling and Ultherapy® to laser skin resurfacing with HALO® and BBL® HERO™. You may benefit from a combination of treatments in tandem with your liquid facelift to achieve your best results without surgery.
How can I get started with a liquid facelift?
We can't wait for you to see for yourself all the amazing benefits of a liquid facelift! Your first step is calling us for a consultation! Call 703.737.0197 or request a consultation online today.