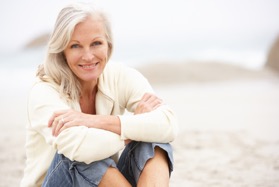 PRP (platelet-rich plasma) has been making headlines for its incredible ability to impart a glowing, younger-looking complexion using the healing power of your own blood. At AVIE!, we offer two effective PRP skin treatments—PRP Facials and PRP Facelifts.
PRP Facials
Have you heard of microneedling? It's a central component of the PRP Facial. Microneedling, or microtherapy, is an effective skin
revitalizer in its own right. Microneedling essentially "tricks" your body into thinking it's injured, which then triggers your skin's natural healing response to grow healthy new collagen. Microneedling also helps to enhance your skin's absorption of PRP. Together, these two treatments form a symbiotic partnership, a megaboost of benefits. The result is intensely revitalized skin with dramatic age-defying results, from brighter skin and tighter pores to a smoother texture with diminished lines and wrinkles.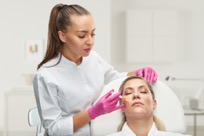 PRP Facelift
Our PRP Facelift injects PRP directly into targeted areas of the face to help replenish lost volume and stimulate new collagen and elastin production. At AVIE!, we go a step further and offer platelet-rich fibrin matrix (PRFM), an enhanced version of PRP that provides longer-lasting revitalizing power for increased benefits. We recommend a series of two treatments spaced about a month apart.
Did you know that PRP is an ideal addition to your dermal filler treatments? The PRP Facelift Plus combines the healing power of PRP with dermal fillers to not only prolong the benefits of your treatment but also boost your results. The PRP Facelift Plus offers an intensely refreshed, younger-looking appearance for months.
We'll help you discover the best option for your unique needs during your personal consultation. Call 703.870.3844 or complete our online consultation request form today.