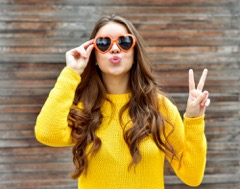 We bet you didn't know that nearly 40% of Americans may suffer from a deficiency in vitamin B12. Or maybe you do. After all, this powerhouse vitamin is getting some serious buzz in the media, thanks to megastars Madonna, Justin Timberlake and countless others who swear by the benefits of vitamin B12 supplementation.
All the hype is understandable. B12 is vital to your body's overall health, affecting your brain function, energy level, metabolism, and mood. If your level is low, a B12 injection may be just the ticket for a much-needed energy boost. Since our award-winning medspa strives to help you achieve beauty from the inside out, we are pleased to offer B12 injections to you!
Safely administered by our expert staff, B12 injections in Leesburg may increase your metabolism, lift your mood, energize your body, and boost your brain function. Unlike oral pills, our shot delivers B12 directly to your bloodstream. Even if you're not deficient, B12 injections are safe. Your body will naturally eliminate any excess of this water-soluble vitamin that you don't need.
Inject a little pep into your life! To begin B12 injections at AVIE!, call our office at 703.870.3844 to schedule your consultation.